Profile: Eddie Keher
Eddie Keher
Early Life
Eddie Keher was born in Inistioge, County Kilkenny in 1941. From an early age he showed exceptional talent at hurling, developing his skills with his friends in the square in his local village. Keher first came to note as an 11-year-old playing in an Under-14 hurling final. Even at that early stage a report of the match described his exceptional talent. At the age of 15 he was instrumental on the St. Kiernans College that defeated St. Flannans College of Ennis in the 1957 All-Ireland senior colleges final. In the game itself Keher scored three goals in the second-half to clinch victory, before setting up a fourth goal for his team-mate on the forward line. In 1959 Keher captained St. Kieran's to a second All-Ireland colleges success over Tipperary CBS. He further highlighted his remarkable hurling skills by playing four years at minor level for Kilkenny.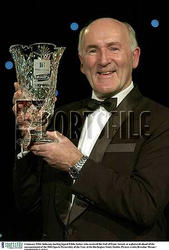 Scoring Feats
By the time he retired Keher had become known as the deadliest finisher in the history of hurling. He holds the record for scoring in All-Ireland finals with 7 goals and 56 points. He was also responsible for the highest score ever in a season, with a total of 20-134 scored in 1972, and is hurling's
all-time top scorer
having recorded 36 goals and 307 points during his 50 championship games with Kilkenny. For these scoring records and for his sheer skill Keher was an automatic choice on the
Gaelic Athletic Association
's Hurling Team of the Century in
1984
and the Hurling Team of the Millennium in
2000
. In
2005
Keher's sideline goal in the 1972 All-Ireland final was listed as one of
Radio Telefís Éireann
's
Top 20 GAA Moments
.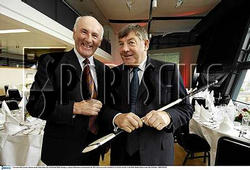 Hurling Career
In 1959 Keher shot to national prominence with the senior hurlers. He played in the All-Ireland Minor Final in September, before graduating to the senior team in time to play in the senior final replay four weeks later. In spite of losing to Waterford Keher had a good game, coming on as a substitute after twenty minutes. It took until 1963 for Keher to appear in his second All-Ireland final. Once again the opposition were Waterford, however, on this occasion Kilkenny were the victors over an ageing Waterford side with Keher scoring a record 14 points. Four years later in 1967 Kilkenny beat an ageing Tipperary side with Keher claiming All-Ireland medal number two. Two years later they repeated the achievement, this time defeating Cork with Keher as captain.
The best was yet to come in the early 1970s, however, as Kilkenny became the most powerful and dominant force in hurling. In the five years from 1971 to 1975 Kilkenny never missed an All-Ireland Hurling Final. Keher's 1970s All-Ireland medals were won in 1972 against Cork, 1974 against Limerick and 1975 against Galway. During these years he set new scoring records. In the 1971 final alone his tally of 2 goals and 11 points became a scoring record that remained unsurpassed until Nicky English in 1989. In November 1977 Keher retired after 21 years of playing at all levels with Kilkenny. During his remarkable career he won every honour in the game, including six All-Ireland medals, three National Hurling Leagues in 1962, 1966 and 1976 and 9 Railway Cup medals which was a Leinster record at the time. His awards for excellence include 4 Cú Chulainn awards, 5 consecutive All Star Awards and the Texaco Hurler of the Year award in 1972.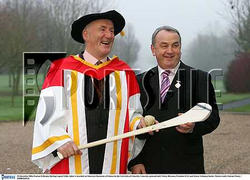 Eddie with Babs Keating
Honours
Competition
No.
Years
All-Ireland Senior Hurling Championships
6

1963

,

1967

, 1969, 1972,

1974

,

1975

Leinster Senior Hurling Championships
10
1963, 1964, 1966, 1967, 1969, 1971, 1972, 1973, 1974, 1975
National Hurling Leagues
3
1962, 1966, 1976
Leinster Minor Hurling Championships
4
1956, 1957, 1958, 1959
Railway Cups
9
1962, 1964, 1965, 1967, 1971, 1972, 1973, 1974, 1975
Kilkenny Senior Club Hurling Championships
1
1968
All Star Awards
5
1971, 1972, 1973, 1974, 1975
Cú Chulainn Awards
4
1963, 1966, 1967, 1969
Texaco Hurler of the Year
1
1972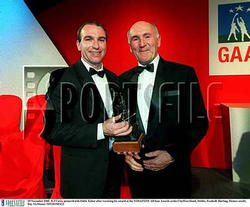 Below; Exert from HoganStand.com
07 August 1992


Eddie Keher

The Black and Ambers greatest ever

If Christy Ring was the greatest h hurler of all time and Mick Mackey was the next best, who completes the Holy Trinity?

In Kilkenny they have little doubt. While some old strangers might advocate the claims of Lory Meagher, the Prince of Hurlers from the 1930s, most others would probably agree that Eddie Keher should be up there in hurling's pancheons alongside the genius from Cloyne and the swashbuckler from Castleconnell.

Some would place the Inistioge man even higher. Mon. Tommy Maher - hardly a totally unbiased observed, admittedly, given his long-standing association with Keher - is one of them, writes Enda McEvoy.

"At this stage, I must say Eddie Keher is the greatest I've seen," the then Fr. Maher told Paddy Downey of the Irish Times the week before he trained Kilkenny to win the 1975 All-Ireland final.

"The second greatest was Christy Ring, Up until last year, perhaps, I would have reserved that order. But I have no doubt at all now, because Keher has done so much for the game, has played it so brilliantly, scores so brilliantly and at all times then a thorough gentleman - a credit to the game."
Those comments were made a matter of days before the Rower Inistioge clubman won his sixth, and last, All-Ireland senior medal. He retired two years later in 1977, having won the Black and Amber at the highest level since being brought onto the county senior panel for the 1959 All-Ireland replay against Waterford.

1959 was indeed the year Eddie Keher began to make his name on the national scene. He started by captaining St. Kierans to win the Colleges title, seeing off Tipperary CBS in the decider. This was his second All-Ireland Colleges honour, the first having come two years earlier when the Kilkenny school - captained then by current County Secretary Ted Carroll - got the better of St. Flannans.

His stylish displays in the St. Kierans jersey made Keher an obvious candidate for the 1959 county minor team. And he didn't disappoint, putting in a virtuoso display (he scored six points) against Tipperary on the first Sunday of September. Unfortunately for him, Tipperary won by a point - but the Kilkenny senior selectors, suitably impressed, called him up for the replay after their blue riband clash with Waterford had ended level.

The Munster man made no mistake the second time around, winning by 3-12 to 1-10. Kilkenny actually scored only two points in the second half ... but, interestingly both came from the stick of Eddie Keher, who went on as a substitute. He remains the only man to have appeared in senior and minor finals in the same year.

Not bad going for a man whose family was exactly steeped in the classic Kilkenny hurling tradition. Eddie's father Stephen was a Roscommon man - and a footballer!

If the absence of TV coverage did no harm to the reputation of Ring and Mackey - and maybe even, paradoxically have helped their legendary feats resound all the louder down future generations - the presence of television cameras 2- or 30 years later certainly played a part in making Eddie Keher the national sports celebrity he became in the 1970s.




His 14 point tally in the 1963 All-Ireland Final ... his role in Kilkenny's championships of 1967, 1969 and 1972 ... his penalty goals in 1974 ... thankfully RTE was there to record and preserve such moments.

Now manager of the AIB branch in Callan, Keher was without question the deadliest marksman of modern times. Perhaps even of all time, taking his consistent accuracy from frees and play for the county throughout nearly two decades at the top.

Nor was instinctive talent the sole key to his greatness. Eddie Keher was a tremendous scorer because he practiced long and hard also.

During training when a student at St. Kieran's, he revealed later, Fr. Maher would coach him on free taking. "A lot of things must be taken into account. The hurley must be just right for you, perfectly comfortable in the hand, in fact. Your method must leave no margin for error. And above all, you must have the right temperament when the pressure is on."

For the 1963 final against Waterford he spent hours each evening after finishing work in the bank in Dublin perfecting his method. "I thought back to my college days and what I had learned from Fr. Maher. I kept experimenting for hours on end until I evolved a system of rising and hitting the ball that I knew must succeed."

It's the old story. Practice makes perfect. On it's own, talent is not enough. Or, as a famous golfer once said by way of explaining his success, "I practice hard and I'm lucky. And I find that the harder I practice, the luckier I become."

Words that all young hurlers would do well to heed.

Incidentally, while we're on the subject of free taking, here's something else Fr. Maher said back in 1975.

"Eddie Keher is a perfect free taker, but you remind even him, before the match, that the only essential think is that you lift the ball. Most free takers never think of lifting the ball, they think of sticking it in the back of the net or over the bar, and they are looking that way.

"But the one thing that matters, the ball, they will look at for only a couple of seconds, and then they will look at the post for 20 seconds, which counts for nil, provided they've taken up the right stance.

"To do it the correct way, you stand over the ball and say 'I'm going to get you off the ground, I'm going to get you up anyway'. And when the ball comes up you automatically hit it. You can't miss it."

Retirement didn't rob Kilkenny hurling of the services of Eddie Keher entirely. He's since acted as trainer and selector with the county senior team and at present is helping his beloved rower-Inistioge in their attempt to win the local intermediate championship. He's active in the Kilkenny GAA Supporters Club as well.

To conclude, an outsider's impression of the Black and Amber's greatest ever. Just as the Irish times dispatched Paddy Downey to interview Fr. Tommy Maher as part of the paper's 1975 All-Ireland Final preview, so staff colleague Elgy Gillespie (who confessed to knowing nothing about hurling) was detailed to talk with Fr. Maher's most famous pupil.

"Not only is he elegant in build, but he has an ascetic look that you can imagine melting into the bank atmosphere," quoted Ms. Gillespie.

"His long face is reserved, almost devotional, his nose is thin and arched, and his large, beautiful eyes have the spirituality of the man who contemplates ... almost Plantagenst. Or else a senior brother in a closed order. Or a behind the scenes, policy bank man."

One way of describing a star hurler, to be sure!

Taken from Hogan Stand magazine
7th August 1992